Panchito Pistoles
Background Info
movies
tv shows
Video games
Animators
Voice actor/actress
Joaquin Garay (original)
Carlos Alazraqui (2001-present)
Personal info
Full name
Panchito Romero Miguel Junipero Francisco Quintero González III
Personality
physical Appearance
Species
chicken
family
Pets
friends
Enemies
Quote
[Source]
Panchito Pistoles is an anthropomorphized rooster that is a friend of Donald Duck and José Carioca.
He appeared in the film The Three Caballeros. Later he appeared in several Disney comics, including Don Rosa's The Three Caballeros Ride Again (2000) and The Magnificent Seven (Minus 4) Caballeros (2005). Panchito was the only one of the Three Caballeros to never appear in Saludos Amigos, as he did not yet exist when the 1942 film was released before he first appeared in the 1944 film. He had some appearances in Disney's House of Mouse and in Minnie's Bow-Toons as a MC for a Mexican Fiesta. His first appearance in comics was a self-titled 1943 story in which he met and fell for Clara Cluck. A few months earlier he appeared in a text story titled "La Piñata".
Description
Edit
Panchito is a close friend of Donald and José. He lives in Mexico and rides on a horse called Señor Martinez. Panchito's full name is Panchito Romero Miguel Junipero Francisco Quintero González III. Panchito or Pancho, as well as Paco or Paquito are nicknames for Francisco, which is also his fifth name. The unusually large name is making fun of the fact that, in many Spanish speaking countries, people use two last names (which, in some cases, are composed of two or more words) and commonly has one or even more middle names, and in some cases, like Juan Nepomuceno Carlos Pérez-Rulfo Vizcaíno's or María del Rosario Mercedes Laura Jennifer Pilar Martínez Molina Baeza's, they are pretty large. Quintero González is Panchito's last name; according to Spanish naming, Quintero would be his father's last name and González his mother's.
Appearances
Edit
Television
Edit
Attractions
Edit
Video games
Edit
Characters
Main: Daisy Duck, Donald Duck, Goofy, Mickey Mouse, Minnie Mouse Pluto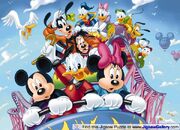 Secondary: April, May and June, Chip 'n' Dale, Clarabelle Cow, Grandma Duck, Horace Horsecollar, Huey, Dewey and Louie, Ludwig Von Drake, Max Goof, Millie and Melody, Morty and Ferdie, Scrooge McDuck
Other: Aracuan Bird, Arizona Goof, Baby Shelby, Mrs. Beakley, Beret Girl, Blackjack, Bobby Zimuruski, Bubba the Cave Duck, Chi-Chi, Clara Cluck, Clarice, Cuckoo-Loca, Dinah the Dachshund, Darkwing Duck, Dickie Duck, Dim-Witty Duck, Donna Duck, Doofus Drake, Duckworth, Eega Beeva, Ellsworth, Felicity Fieldmouse, Fenton Crackshell, Fethry Duck, Figaro, Gilbert Goof, Gladstone Gander, Glittering Goldie, Gloria, Mrs. Goof, Grandma Goofy, Gosalyn Mallard, Gram-Gram Peg-Leg, Gubbles, Gus Goose, Gyro Gearloose, Humphrey the Bear, J. Audubon Woodlore, Mr. Jollyland, José Carioca, Launchpad McQuack, Little Helper, Lena, Mona, Newton Gearloose, Chief O'Hara, Oswald the Lucky Rabbit, Panchito Pistoles, Baby Panda, Peg Pete, Peter Pig, Mr. Pettibone, Pistol Pete, P.J., Pluto's Angel, Pluto's Kid Brother, Powerline, The Quin-Puplets, Roxanne, Roxanne's Father, Salty the Seal, Stacey, Susie Beagleman, Sylvia Marpole, Tiki, Toodles, Tootsie the Triceratops, Mrs. Turtle, Webby Vanderquack, Wilbur, Witch Hazel