Morty and Ferdie
Background Info
movies
Mickey's Magical Christmas: Snowed in at the House of Mouse
tv shows
The Mickey Mouse Club, Mickey Mouse Works, Mickey Mouse
Video games
Mickey Mouse: Magic Wands,

Pop'n Music Mickey Tunes, Disney Golf, Disney Snow Sports Epic Mickey

Animators
Voice actor/actress
Chris Diamantopoulos, Wendee Lee, Stevie Louise Vallance, Ramone Hamilton, Wyatt White
Personal info
Full name
Mortimer and Ferdinand Fieldmouse
Personality
physical Appearance
little boy mice, small versions of Mickey
Species
mouse
family
Felicity Fieldmouse (mother) Mickey Mouse (uncle)

Minnie Mouse (aunt off-screen)

Pets
friends
Mickey Mouse, Minnie Mouse, Huey Dewey and Louie, Goofy Goof, Donald Duck, Scrooge McDuck, Millie and Melody, each other
Enemies
Pete
Quote
[Source]
Morty and Ferdie Fieldmouse are the twin nephews of Mickey Mouse. They are the mouse considered counterparts to Millie and Melody and to Huey, Dewey, and Louie. One of the main differences is unlike Huey, Dewey and Louie who are under the guardianship of their uncles Donald Duck and Scrooge McDuck, Mickey is not their guardian but instead their mother. However, the boys are mainly often being taken care of by Mickey and spend a lot of time with their Uncle Mickey, who truely seem to care deeply for him.
History
They first appeared in Floyd Gottfredson's Mickey Mouse Sunday strip story line titled "Mickey's Nephews" (1932). Since then they have appeared in lots of comic strips and comic book stories starring Mickey Mouse and Pluto.
Ferdie disappeared from the Mickey Mouse comic strip in 1943 because Gottfredson thought the nephews were too much alike. He had plans to bring Ferdie back later as a bespectacled, intellectual, bookworm mouse with an Eton hat and coat with the explanation that he had been away at school. However, Gottfredson never got around to bringing Ferdie back and Morty remained in the strip alone. Morty was occasionally depicted with his best friend named Alvin and a sweetheart named Millie. Both were anthropomorphic dogs. Ferdie never vanished from comic book stories, however. In recent years, some of Morty and Ferdie's comic book appearances have portrayed them as football players on the team Riverside Rovers.
In pre-World War 2 children's books produced by Disney, the nephews were usually called Morty and Monty. Earlier books contain three or more nephews with various names, including Maisie and Marmaduke.
In animation, Mickey's nephews first appear in the 1933 Mickey Mouse film Giantland, although the film shows Mickey with as many as 14 nephews at the same time. The following year the nephews appear again in Gulliver Mickey. The following film, Mickey's Steam Roller, is the first to show Mickey with only two nephews, who can be presumed to be Morty and Ferdie, although they are unnamed in the film itself. This was two years after the twins debuted in the comic strip. Morty and Ferdie also make a cameo towards the end of 1938's Boat Builders and appear again in 1983's Mickey's Christmas Carol in speaking roles, albeit at different ages as one of the twins took on the role of Tiny Tim. In 1999 they make a cameo in the two part Mickey Mouse Works segment "Around the World in Eighty Days", which was used again in Disney's House of Mouse.
Appearances
Short Films
TV Series
Video Games
Books
Relationships
Main Article: Morty and Ferdie's Relationships
Gallery
See Also
Characters
Main: Daisy Duck, Donald Duck, Goofy, Mickey Mouse, Minnie Mouse Pluto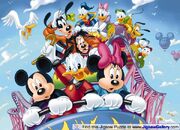 Secondary: April, May and June, Chip 'n' Dale, Clarabelle Cow, Grandma Duck, Horace Horsecollar, Huey, Dewey and Louie, Ludwig Von Drake, Max Goof, Millie and Melody, Morty and Ferdie, Scrooge McDuck
Other: Aracuan Bird, Arizona Goof, Baby Herman, Baby Shelby, Mrs. Beakley, Benny the Cab, Beret Girl, Big Bad Wolf, Blackjack, Bobby Zimuruski, Bubba the Cave Duck, Chi-Chi, Clara Cluck, Clarice, Cuckoo-Loca, Dinah the Dachshund, Darkwing Duck, Della Duck, Dickie Duck, Dim-Witty Duck, Donna Duck, Doofus Drake, Duckworth, Eega Beeva, Ellsworth, Felicity Fieldmouse, Fenton Crackshell, Fethry Duck, Figaro, Gadget Hackwrench, Gilbert Goof, Gladstone Gander, Glittering Goldie, Gloria, Mrs. Goof, Grandma Goofy, Gosalyn Mallard, Gram-Gram Peg-Leg, Gubbles, Gus Goose, Gyro Gearloose, Humphrey the Bear, J. Audubon Woodlore, Jessica Rabbit, Jiminy Cricket, Mr. Jollyland, José Carioca, Launchpad McQuack, Little Helper, Lena, Mona, Newton Gearloose, Chief O'Hara, Oswald the Lucky Rabbit, Panchito Pistoles, Baby Panda, Peg Pete, Peter Pig, Mr. Pettibone, Pistol Pete, P.J., Pluto's Angel, Pluto's Kid Brother, Powerline, The Quin-Puplets, Roger Rabbit, Roxanne, Roxanne's Father, Salty the Seal, Spike the Bee, Stacey, Storkules, Susie Beagleman, Sylvia Marpole, Three Little Pigs, Three Little Wolves, Tiki, Toodles, Tootsie the Triceratops, Mrs. Turtle, Webby Vanderquack, Wilbur, Witch Hazel, Zeus
Community content is available under
CC-BY-SA
unless otherwise noted.