This is an article about the iconic character, Mickey Mouse. If you're looking for something else by that name see Mickey Mouse (disambiguation).
Mickey Mouse
Background Info
movies
Fantasia
Fun and Fancy Free
Who Framed Roger Rabbit (cameo)
A Goofy Movie (cameo)
Mickey's Magical Christmas: Snowed in at the House of Mouse
Mickey's Once Upon A Christmas
Mickey's Twice Upon A Christmas
Mickey, Donald and Goofy: The Three Musketeers
tv shows
The Mouse Factory
The Mickey Mouse Club
Mickey Mouse Works
House of Mouse
Mickey Mouse Clubhouse
Mickey Mouse (TV Series)
Video games
Epic Mickey
Kingdoms Hearts Series
Disney Magical World Series
(many more)
Animators
Les Clark,

Fred Moore, Milt Kahl, Mark Henn, Andreas Deja, Simon Ashton (The Three Musketeers), Davide Benvenuti, Manny Banados, Andrew Collins, Marc Wasik, Michael Badman, Lily Dell, Kathy O'Rourke, Gie Santos, Tobias Schwarz, John Power, Florian Wagner, Dawn Lam, Donn Pattenden, Brain Estanislao, Richard Bailey, Jonathan Dower

Voice actor/actress
Walt Disney (1928–47)
Jimmy MacDonald (1947–77)
Wayne Allwine (1977–2009)
Bret Iwan (2009–present)
Chris Diamantopoulos (2013-present) ( TV series only)
Personal info
Full name
Michael Theodore Mouse
Personality
Charismatic, fun-loving, whimsical, heroic, kind, nice, brave, funny, happy, bashful, selfless, comical, forgetful, optimistic, imaginative, friendly, stubborn, slightly foolish, caring, humble, lazy, mischievous, polite, adventurous
physical Appearance
Short and slender black mouse, cream face, black tail, black nose, black round ears, red short overalls with two white or yellow buttons (suspenders sometimes included), yellow shoes, white gloves with three slits on each glove
Species
Minnie Mouse's husband/boyfriend

Leader of the Clubhouse Friends Goofy and Donald Duck's best friend Pete's arch-enemy

family
Morty and Ferdie (nephews), Uncle Jeremy, Felicity Fieldmouse (sister)
Pets
Pluto, Oscar the Ostrich, Tanglefoot, Gubbles
friends
Minnie Mouse, Donald Duck, Goofy Goof, Daisy Duck, Scrooge McDuck, Darkwing Duck, Dr. Einmug, Felicity Fieldmouse, Colonel Doberman, Karlissya, Doc Static, Dr. Spike Marlin, Li'L Davy, Karlissya, Duffy the Disney Bear, Ben Buzzard

Pete (sometimes)

Enemies
Pete, Mortimer Mouse, The Phantom Blot, Sylvester Shyster, Weasels, Emil Eagle, Professor Nefarious, Big Bad Wolf, Eli Squinch, Baby Shelby, Trudy Van Tubb
Quote
"See ya real soon!"
"Oh Boy!"
"Hot dog!"
"Aw, gosh!"
"Hiya, Pal!"
"Ha ha!"
[Source]
Mickey Mouse is the main iconic character with a squeaky voice of the Walt Disney CO. He is also the leader of the Sensational Six. He is the boyfriend of Minnie Mouse and the best friend of Donald Duck and Goofy.
He was created by Walt Disney and Uber Iwerks at the Walt Disney Studios in 1928. An anthropomorphic mouse who typically wears red short overalls (shoulder straps sometimes included), large yellow shoes, and white gloves, Mickey has become one of the most recognizable cartoon characters in the world.
History
Mickey first was seen in a single test tube screening (Plane Crazy). Mickey officially debuted in the short film Steamboat Willie (1928), one of the first sound cartoons. He went on to appear in over 130 films, including The Band Concert (1935), Brave Little Tailor (1938), and Fantasia (1940). Mickey appeared primarily in short films, but also occasionally in feature-length films. Ten of Mickey's cartoons were nominated for the Academy Award for Best Animated Short Film, one of which, Lend a Paw, won the award in 1942. In 1978, Mickey became the first cartoon character to have a star on the Hollywood Walk of Fame.
Beginning in 1930, Mickey has also been featured extensively as a comic strip character. His self-titled newspaper strip, drawn primarily by Floyd Gottfredson, ran for 45 years. Mickey has also appeared in comic books and in television series such as The Mickey Mouse Club (1955–1996) and others. He also appears in other media such as video games as well as merchandising and is a meetable character at the Disney parks.
Mickey Through the Years Collection
Personality
Mickey is a sweet, easy going, care free guy. Despite being care free, he's often bothered by his friend Donald's temper, and Goofy's clumsiness. He can be a bit irresponsible at times and foolish, which annoys his girlfriend Minnie.
Relationships
Main Article: Mickey's Relationships
Appearances
Being the main iconic character of Disney, Mickey has made many appearances on the big and small screen.
Movies
Short Films
Mickey has starred in over a hundred shorts through out the decades.
Notable Short Films
Television
Walt Disney anthology series
The Mouse Factory
The Mickey Mouse Club
Minnie's Bow-Toons (guest appearance)
Comics and Books
Video Games
List of Mickey and Friends video games
Attractions
Gallery
5C83E7B0818F.jpeg|thumb|220x220px]]
Quotes
Trivia

.
Mortimer Mouse was the name that Walt picked for his new character. However, his wife Lillian thought it sounded too pompous and suggested the mouse be called Mickey instead.
The name was later given to His rival.
Mickey's ears always face the same way, no matter which direction he is facing.
Wayne Allwine's final performance of Mickey Mouse before his death was in Kingdom Hearts 358/2 Days. Because of this, there is a dedication to him in the credits of the English version of the game.
Many variations of Mickey's silhouette logo have been made.
Videos
Voice Clips
The Senational Six
Characters: Mickey Mouse, Minnie Mouse, Donald Duck, Daisy Duck, Goofy, Pluto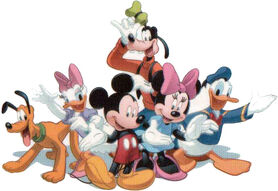 Alternative Identities: Sorcerer Mickey, The Duck Avenger, Super Daisy, Super Mickey, Wonder Minnie, Super-Power Pup, Super Goof, Dynamo Duck, Upsy-Daisy, James Goof
Characters
Main: Daisy Duck, Donald Duck, Goofy, Mickey Mouse, Minnie Mouse Pluto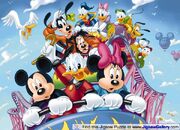 Secondary: April, May and June, Chip 'n' Dale, Clarabelle Cow, Grandma Duck, Horace Horsecollar, Huey, Dewey and Louie, Ludwig Von Drake, Max Goof, Millie and Melody, Morty and Ferdie, Scrooge McDuck
Other: Aracuan Bird, Arizona Goof, Baby Herman, Baby Shelby, Mrs. Beakley, Benny the Cab, Beret Girl, Big Bad Wolf, Blackjack, Bobby Zimuruski, Bubba the Cave Duck, Chi-Chi, Clara Cluck, Clarice, Cuckoo-Loca, Dinah the Dachshund, Darkwing Duck, Della Duck, Dickie Duck, Dim-Witty Duck, Donna Duck, Doofus Drake, Duckworth, Eega Beeva, Ellsworth, Felicity Fieldmouse, Fenton Crackshell, Fethry Duck, Figaro, Gadget Hackwrench, Gilbert Goof, Gladstone Gander, Glittering Goldie, Gloria, Mrs. Goof, Grandma Goofy, Gosalyn Mallard, Gram-Gram Peg-Leg, Gubbles, Gus Goose, Gyro Gearloose, Humphrey the Bear, J. Audubon Woodlore, Jessica Rabbit, Jiminy Cricket, Mr. Jollyland, José Carioca, Launchpad McQuack, Little Helper, Lena, Mona, Newton Gearloose, Chief O'Hara, Oswald the Lucky Rabbit, Panchito Pistoles, Baby Panda, Peg Pete, Peter Pig, Mr. Pettibone, Pistol Pete, P.J., Pluto's Angel, Pluto's Kid Brother, Powerline, The Quin-Puplets, Roger Rabbit, Roxanne, Roxanne's Father, Salty the Seal, Spike the Bee, Stacey, Storkules, Susie Beagleman, Sylvia Marpole, Three Little Pigs, Three Little Wolves, Tiki, Toodles, Tootsie the Triceratops, Mrs. Turtle, Webby Vanderquack, Wilbur, Witch Hazel, Zeus
Community content is available under
CC-BY-SA
unless otherwise noted.