Ranger J. Audubon Woodlore (or simply J. Audubon Woodlore) is a park ranger in the Mickey Mouse Universe.
History
He is the park ranger of Brownstone National Park (a play on Yellowstone National Park), one of the features of which is a geyser named "Old Fateful" (a play on Old Faithful). He was originally voiced by Bill Thompson. Woodlore's name is an inside joke-reference to John James Audubon, the famous 19th Century ornithologist/naturalist/painter. He is currently voiced by Corey Burton and Jeff Bennett.
He first appeared in two 1954 Donald Duck cartoons Grin and Bear It and Grand Canyonscope. (It is revealed in the latter that Woodlore was a postal worker prior to his Ranger days.) One year later, in Beezy Bear, he repeatedly admonishes Humphrey the Bear "You bathe too much!", not realising that the bear is really just hiding in the pond from the bees whose honey he was trying to steal.
Woodlore prides himself on running a tight ship and is frequently oblivious to those (particularly Donald) who are humiliated and/or insulted by his constant scoldings and criticisms. Despite his somewhat authoritarian attitude, he cares about the bears as if they were his children...although he once bamboozled them into cleaning up the park for him (so that he could nap in a hammock) by singing the jazzy ditty "In the Bag". When Woodlore's lazy motive became apparent, the bears irritably bagged him along with the litter. Most of the bears are respectful of Woodlore, except Humphrey the Bear, whom the Ranger often lectures.
The Ranger also made an appearance in "Down and Out With Donald Duck" (also known as "A Duckumentary"), a mockumentary about Donald Duck's infamous temper, where he is out of uniform, now working in an employment agency where Donald seeks a job. Woodlore's name appeared on the entrance sign at Disneyland's Bear Country land, as the resident park ranger.Woodlore most recently appeared in an episode of Disney's House of Mouse.
Gallery
Characters
Main: Daisy Duck, Donald Duck, Goofy, Mickey Mouse, Minnie Mouse Pluto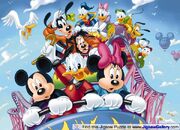 Secondary: April, May and June, Chip 'n' Dale, Clarabelle Cow, Grandma Duck, Horace Horsecollar, Huey, Dewey and Louie, Ludwig Von Drake, Max Goof, Millie and Melody, Morty and Ferdie, Scrooge McDuck
Other: Aracuan Bird, Arizona Goof, Baby Herman, Baby Shelby, Mrs. Beakley, Benny the Cab, Beret Girl, Big Bad Wolf, Blackjack, Bobby Zimuruski, Bubba the Cave Duck, Chi-Chi, Clara Cluck, Clarice, Cuckoo-Loca, Dinah the Dachshund, Darkwing Duck, Della Duck, Dickie Duck, Dim-Witty Duck, Donna Duck, Doofus Drake, Duckworth, Eega Beeva, Ellsworth, Felicity Fieldmouse, Fenton Crackshell, Fethry Duck, Figaro, Gadget Hackwrench, Gilbert Goof, Gladstone Gander, Glittering Goldie, Gloria, Mrs. Goof, Grandma Goofy, Gosalyn Mallard, Gram-Gram Peg-Leg, Gubbles, Gus Goose, Gyro Gearloose, Humphrey the Bear, J. Audubon Woodlore, Jessica Rabbit, Jiminy Cricket, Mr. Jollyland, José Carioca, Launchpad McQuack, Little Helper, Lena, Mona, Newton Gearloose, Chief O'Hara, Oswald the Lucky Rabbit, Panchito Pistoles, Baby Panda, Peg Pete, Peter Pig, Mr. Pettibone, Pistol Pete, P.J., Pluto's Angel, Pluto's Kid Brother, Powerline, The Quin-Puplets, Roger Rabbit, Roxanne, Roxanne's Father, Salty the Seal, Spike the Bee, Stacey, Storkules, Susie Beagleman, Sylvia Marpole, Three Little Pigs, Three Little Wolves, Tiki, Toodles, Tootsie the Triceratops, Mrs. Turtle, Webby Vanderquack, Wilbur, Witch Hazel, Zeus
Community content is available under
CC-BY-SA
unless otherwise noted.