Goofy
Background Info
movies
A Goofy Movie, An Extremely Goofy Movie, Mickey's Once Upon A Christmas, Mickey's Twice Upon A Christmas
tv shows
Goof Troop
Video games
Animators
Voice actor/actress
Pinto Colvig (1932–1965)
Stuart Buchanan (1938)
George Johnson (1939–1943)
Hal Smith (1967-1983, 1986-1987)
Will Ryan (1986-1988)
Tony Pope (1979-1988)
Bill Farmer (1987–present)
Personal info
Full name
Goofy Goof
Personality
Goofy, clumsy, silly, funny, adventurous, smart, nice, friendly, caring, loving, heroic
physical Appearance
tall, skinny, male dog with buck teeth
Species
dog
family
Max Goof (son)
Mrs. Goof (wife)
Grandma Goofy (grandmother)
Gilbert Goof (nephew)
Zenobia
Pets
Waffles (cat)
Ellsworth (crow)
Mr. Pettibone (cat)
Dolores the Elephant
friends
Max, Mickey Mouse, Minnie Mouse, Donald Duck, Daisy Duck, Roxanne, Clarabelle Cow, Sylvia Marpole, Mona, Pluto, Oswald the Lucky Rabbit, Theodore Seville, Uryuu Ishida
Enemies
Pete, Itachi Uchiha
Quote
"Gawrsh!" "Aw shucks!" "Somethin' wrong here" "Oh, the world owes me a livin'" "Heavens the betsy!" "YEEEE-HOO-HOO-HOOEY!" "A-hyuck!
[Source]

Goofy is the third member of the Mickey, Donald and Goofy trio. He is close friends with Mickey Mouse and Donald Duck, and the father of Max Goof. He is a member of The Sensational Six and considered to be a very iconic Disney character.
Goofy was created in 1932 at Walt Disney Productions. He is a tall, anthropomorphic dog, and typically wears a turtle neck and vest, with pants, shoes, white gloves, and a tall hat originally designed as a rumpled fedora. He is normally characterized as extremely clumsy and dim-witted, yet this interpretation isn't always definitive; occasionally, Goofy is shown as intuitive and clever, albeit in his own unique, eccentric way.
Goofy debuted in animated cartoons, starting in 1932 with Mickey's Revue. During the 1930s, he was used extensively as part of a comedy trio with Mickey and Donald. Starting in 1939, Goofy was given his own series of shorts which were popular in the 1940s and early 1950s. Two Goofy shorts were nominated for an Oscar: How to Play Football and Aquamania. He also co-starred in a short series with Donald. Three more Goofy shorts were produced in the 1960s after which Goofy was only seen in television and comics. He returned to theatrical animation in 1983 with Mickey's Christmas Carol. His last theatrical appearance was How to Hook Up Your Home Theater in 2007. Goofy has also been featured in television, most extensively in Goof Troop, as well as House of Mouse (2000–2003), Mickey Mouse Clubhouse, and Mickey Mouse.
Originally known as Dippy Dawg, the character is more commonly known simply as "Goofy," a name used in his short film series. In his 1950s persona, Goofy was called George Geef, or G. G. Geef, implying that "Goofy" was merely a nickname. Sources from the Goof Troop continuity give the character's full name as Goofy Goof, or G. G. Goof, likely a reference to the 1950s name. In many other sources, both animated and comics, the surname Goof continues to be used. In other 2000s-era comics the character's full name has occasionally been given as Goofus D. Dawg.
Personality
Edit
As his name would imply Goofy is very dimwitted and clumsy. However, the level of his lack of coordination and ignorance depends a great deal on the story being told. Despite not being very bright he is very kind and caring, and is shown to be a loving friend and father. He is arguably at his most intelligent and is show to have the most depth,when his playing the role of "father" in media such as A Goofy Movie. As appose to the classic short cartoons where his main role is be participate in slapstick comedy.
Relationships
Edit
Main Article: Goofy's Relationships
Appearances
Edit
Short Films
Edit
Main Article: Goofy Goof/Shorts List
Notable Short Films
Edit
Comics and Books
Edit
Video Games
Edit
Goofy has had several different names over the years including:

Dippy Dawg
Goofus Dawg
George Geef
G.G. Goof

Goofy is the only member of the Mickey, Donald and Goofy trio to be a father, rather than an uncle.
The Senational Six
Characters: Mickey Mouse, Minnie Mouse, Donald Duck, Daisy Duck, Goofy, Pluto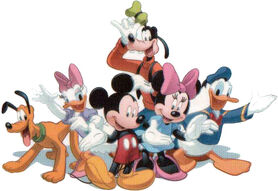 Alternative Identities: Sorcerer Mickey, The Duck Avenger, Super Daisy, Super Mickey, Wonder Minnie, Super-Power Pup, Super Goof, Dynamo Duck, Upsy-Daisy, James Goof
Characters
Main: Daisy Duck, Donald Duck, Goofy, Mickey Mouse, Minnie Mouse Pluto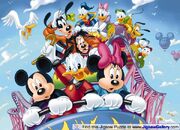 Secondary: April, May and June, Chip 'n' Dale, Clarabelle Cow, Grandma Duck, Horace Horsecollar, Huey, Dewey and Louie, Ludwig Von Drake, Max Goof, Millie and Melody, Morty and Ferdie, Scrooge McDuck
Other: Aracuan Bird, Arizona Goof, Baby Shelby, Mrs. Beakley, Beret Girl, Blackjack, Bobby Zimuruski, Bubba the Cave Duck, Chi-Chi, Clara Cluck, Clarice, Cuckoo-Loca, Dinah the Dachshund, Darkwing Duck, Dickie Duck, Dim-Witty Duck, Donna Duck, Doofus Drake, Duckworth, Eega Beeva, Ellsworth, Felicity Fieldmouse, Fenton Crackshell, Fethry Duck, Figaro, Gilbert Goof, Gladstone Gander, Glittering Goldie, Gloria, Mrs. Goof, Grandma Goofy, Gosalyn Mallard, Gram-Gram Peg-Leg, Gubbles, Gus Goose, Gyro Gearloose, Humphrey the Bear, J. Audubon Woodlore, Mr. Jollyland, José Carioca, Launchpad McQuack, Little Helper, Lena, Mona, Newton Gearloose, Chief O'Hara, Oswald the Lucky Rabbit, Panchito Pistoles, Baby Panda, Peg Pete, Peter Pig, Mr. Pettibone, Pistol Pete, P.J., Pluto's Angel, Pluto's Kid Brother, Powerline, The Quin-Puplets, Roxanne, Roxanne's Father, Salty the Seal, Stacey, Susie Beagleman, Sylvia Marpole, Tiki, Toodles, Tootsie the Triceratops, Mrs. Turtle, Webby Vanderquack, Wilbur, Witch Hazel