Goof Troop
Background information
Genre:
comdey
Creator:
Voices:
Bill Farmer,

Jim Cummings, Dana Hill, April Winchell, Rob Paulsen, Nancy Cartwright, Frank Welker

Animator(s):
Composer(s):
Kevin Quinn
Theme song:
"Goof Troop", performed by Phil Perry
No. of seasons:
2
No. of episodes:
78 (+1 special)
[Source]

Goof Troop is an American animated comedy television series from The Walt Disney Company featuring Goofy Goof as a father figure and bonding with his son Max Goof, and Pete, as his neighbor. Created by Peter Montgomery, the main series of 65 episodes ran in syndication from 1992 to 1993 on The Disney Afternoon, while an additional thirteen episodes ran on Saturday mornings on ABC. One Christmas special was also produced, which ran in syndication.
Goof Troop bears similarity to several early-1950s Goofy cartoon shorts which depicted Goofy as a father to a mischievous red-haired son.
Goofy, a single father, moves back to his hometown of Spoonerville with his son, Max. As it happens, Goofy and Max end up moving in next door to Goofy's high school friend: Pete, a used car salesman and owner of Honest Pete's Used Cars; Pete's wife Peg, a real estate agent; and their two children, son P.J. (Pete Jr.) and younger daughter Pistol. Max and P.J. become best friends and do practically everything together. A large portion of humor comes from the relatively normal Max's personality sharply contrasting with his father.
Voice Cast
Edit
Home Media
Edit
Main Article(s):
Goof Troop
Series: Goof Troop
Episodes: "Forever Goof: Everything's Coming Up Goofy", "Forever Goof: Good Neighbor Goof", "Axed by Addition", "Unreal Estate", "You Camp Take It With You", "Midnight Movie Madness", "Counterfeit Goof", "Queasy Rider", "O, R-V, I N-V U", "Meanwhile, Back at the Ramp", "Close Encounters of the Weird Mime", "Slightly Dinghy", "Cabana Fever", "Maximum Insecurity", "Where There's Smoke, There's Goof", "Date with Destiny", "Hot Air", "Take Me Out of the Ball Game", "Wrecks, Lies & Videotape", "Puppy Love", "Max-imum Protection", "Goofin' Hood and His Melancholy Men", "Leader of the Pack", "Inspector Goofy", "Shake, Rattle & Goof", "Great Egg-Spectations", "Terminal Pete", "Fool's Gold", "Three Ring Bind", "Cat's Entertainment", "Waste Makes Haste", "Pistolgeist", "The Ungoofables", "All the Goof That's Fit to Print", "Bringin' on the Rain", "To Heir Is Human", "Hallow-Weenies", "Talent to the Max", "Tub Be or Not Tub Be", "Major Goof", "A Goof of the People", "Goof Under My Roof", "Goodbye Mr. Goofy", "Lethal Goofin'", "Frankengoof", "E=MC Goof", "Pete's Day at the Races", "In Goof We Trust", "And Baby Makes Three", "The Incredible Bulk"M"Mrs. Spoonerville", "For Pete's Sake", "Big City Blues", "Rally Round the Goof", "Window Pains", "Nightmare on Goof Street", "Where There's a Will, There's a Goof", "Winter Blunderland", "Gymnauseum", "Come Fly with Me", "As Goof Would Have It", "Calling All Goofs", "Buddy Building", "Dr. Horatio's Magic Orchestra", "Goofs of a Feather", "Goof Fellas", "The Good, the Bad and the Goofy", "Educating Goofy", "Peg o' the Jungle", "Partners in Grime", "A Pizza the Action", "To Catch a Goof", "Gunfight at the Okie-Doke Corral"
ABC episodes: "Queasy Rider", "Maximum Insecurity", "Puppy Love", "Great Egg-Spectations", "Three Ring Bind", "Pistolgeist", "Bringin' on the Rain", "Talent to the Max", "Tee for Two", "Goofin' Up the Social Ladder", "Sherlock Goof", "From Air to Eternity", "Clan of the Cave Goof"
Episode List: Goof Troop/Episode List
Home Media:Goof Troop/Home Media, Disney Afternoon Compilation/Home Media
Telvision Series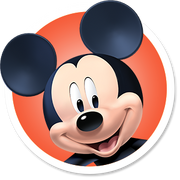 Walt Disney anthology series, The Mickey Mouse Club, DuckTales, Goof Troop, Darkwing Duck (series), Quack Pack, The Ink and Paint Club, Mickey Mouse Works, House of Mouse, Mickey Mouse Clubhouse, Minnie's Bow-Toons, Mickey Mousekersize, Mickey's World Record Animals, Mickey Mouse (TV Series), Mickey and the Roadster Racers, Legend of the Three Caballeros, DuckTales (2017)

Upcoming: none