Gloria
Background Info
movies
none
tv shows
none
Video games
Animators
Voice actor/actress
Personal info
Full name
Personality
physical Appearance
slender, blonde, hippie female duck
Species
duck
family
Pets
friends
Fethry Duck, Donald Duck
Enemies
Quote
[Source]
Gloria is Fethry Duck's girlfriend. She would sometimes like Fethry to be less lazy and more romantic. Just like Fethry fights crime as the Red Bat, Gloria has her own superhero identity as the Purple Butterfly.
History
Back in the early 1970s, when the hippie movement was all the rage, Fethry was given a flower power girlfriend, complete with bell bottom trousers, bandana, giant sunglasses and the generally unkempt and garish appearance of the hippies. She first appeared in the story Paz, Amor E Glória in Zé Carioca #1099 from 1972, created by Ivan Saidenberg and possibly the artist Sérgio Lima, and she was one of a number of characters created for the Brazilian market.
By her second appearance she got her present looks. Her beak was straightened out, her hair was changed from white to blond, her trousers removed, and the sunglasses changed to ordinary glasses. She still kept her hippie appearance, only it was toned down.
One of the characteristics of the character which was established by her third appearance was her infatuation with Morcego Vermelho, Fethry's Brazilian super-hero alter ego. At first this meant stories about Fethry's rival for Gloria's affection was himself (a common theme in the Superman stories at the time). Later, in 1983, Gérson L. B. Teixeira and Luiz Podavin made her into the super-heroin Borboleta Purpura (The Purple Butterfly) who would be Morcego Vermelho's partner in crime fighting.
While some of the stories were published outside Brazil, the character only appeared in Brazilian stories. When the stories with Morcego Vermelho started being made in Europe, Gloria was not used. The production of stories with the character stopped in the mid 1990s, with the last record being from 1996.
There are presently no records of her being transferred to other media, but it is highly likely she has has appeared as merchandise.
Appearances
Zé Carioca #1099 (Na Terra Dos Tasca-Lasca) - December 1972
Almanaque Disney #131 (Banzé Na Selva) - April 1982
Peninha (1ª Série) #50 (Abril) (A Paulada Era A Lei!) - July 1984
Topolino #1540 (Paperinik vice supereroe) - June 1985
Mega Almanacco #341 (Le spazioavventure di Topolino e Pippo) - May 1985
Tio Patinhas #259 (História Pra Boi Não Dormir) - December 1986
Margarida Especial de Aniversário (Abril) (Haja Pique!) - August 1987
Disney Especial (1ª Série) #121 (Os Apaixonados) (Cover) - May 1990
Disneylandia #18 (Abril) (Caça À Vista) - August 1991
Margarida (1ª Série) #176 (Daisy's Adventure Club - O Faraó Solteiro) - May 1993
Anders And & Co. (Egmont Serieforlaget A/S) #2014-31 (Fødselsdagsforvirring) - July 2014
Gallery
Characters
Main: Daisy Duck, Donald Duck, Goofy, Mickey Mouse, Minnie Mouse Pluto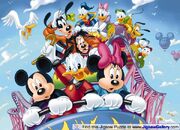 Secondary: April, May and June, Chip 'n' Dale, Clarabelle Cow, Grandma Duck, Horace Horsecollar, Huey, Dewey and Louie, Ludwig Von Drake, Max Goof, Millie and Melody, Morty and Ferdie, Scrooge McDuck
Other: Aracuan Bird, Arizona Goof, Baby Herman, Baby Shelby, Mrs. Beakley, Benny the Cab, Beret Girl, Big Bad Wolf, Blackjack, Bobby Zimuruski, Bubba the Cave Duck, Chi-Chi, Clara Cluck, Clarice, Cuckoo-Loca, Dinah the Dachshund, Darkwing Duck, Della Duck, Dickie Duck, Dim-Witty Duck, Donna Duck, Doofus Drake, Duckworth, Eega Beeva, Ellsworth, Felicity Fieldmouse, Fenton Crackshell, Fethry Duck, Figaro, Gadget Hackwrench, Gilbert Goof, Gladstone Gander, Glittering Goldie, Gloria, Mrs. Goof, Grandma Goofy, Gosalyn Mallard, Gram-Gram Peg-Leg, Gubbles, Gus Goose, Gyro Gearloose, Humphrey the Bear, J. Audubon Woodlore, Jessica Rabbit, Jiminy Cricket, Mr. Jollyland, José Carioca, Launchpad McQuack, Little Helper, Lena, Mona, Newton Gearloose, Chief O'Hara, Oswald the Lucky Rabbit, Panchito Pistoles, Baby Panda, Peg Pete, Peter Pig, Mr. Pettibone, Pistol Pete, P.J., Pluto's Angel, Pluto's Kid Brother, Powerline, The Quin-Puplets, Roger Rabbit, Roxanne, Roxanne's Father, Salty the Seal, Spike the Bee, Stacey, Storkules, Susie Beagleman, Sylvia Marpole, Three Little Pigs, Three Little Wolves, Tiki, Toodles, Tootsie the Triceratops, Mrs. Turtle, Webby Vanderquack, Wilbur, Witch Hazel, Zeus
Community content is available under
CC-BY-SA
unless otherwise noted.