Doofus
Background Info
movies
tv shows
DuckTales
DuckTales (2017)
Video games
Animators
Voice actor/actress
Townsend Coleman
Personal info
Full name
Doofus Drake
Personality
cheerful, nice, gullible
physical Appearance
over weight, young duck with glasses
Species
duck
family
Webby Vanderquack (possible future wife)
Pets
friends
Launchpad McQuack, Huey Dewey and Louie, Webby Vanderquack, Scrooge McDuck
Enemies
Flintheart Glomgold, Pete, Magica De Spell, Ma Beagle, The Beagle Boys
Quote
[Source]
Doofus Drake recurring character in the TV series DuckTales.
Background
He is a friend of Huey, Dewey, and Louie, and Launchpad's sidekick. Generally speaking, Doofus is a rather dim-witted and clumsy character, with a positive attitude as insatiable as his appetite. He exhibits hero worship for Launchpad, which frequently borders on the delusional. (The relationship between Doofus and Launchpad in many ways mirrors that of Launchpad and Scrooge.) Doofus is also marked by his strong moral compass, best demonstrated in the episode "Superdoo!", in which he uses newly acquired superpowers to save the Junior Woodchucks from catastrophe only to voluntarily relinquish them for the sake of hard work and friendship.
Doofus also appears in the DuckTales reboot. He is a very different character in that incarnation, and is show to be a spoiled rich boy and antagonist.
Appearances
TV Series
Video Games
Gallery
Characters
Main: Daisy Duck, Donald Duck, Goofy, Mickey Mouse, Minnie Mouse Pluto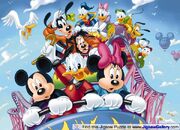 Secondary: April, May and June, Chip 'n' Dale, Clarabelle Cow, Grandma Duck, Horace Horsecollar, Huey, Dewey and Louie, Ludwig Von Drake, Max Goof, Millie and Melody, Morty and Ferdie, Scrooge McDuck
Other: Aracuan Bird, Arizona Goof, Baby Herman, Baby Shelby, Mrs. Beakley, Benny the Cab, Beret Girl, Big Bad Wolf, Blackjack, Bobby Zimuruski, Bubba the Cave Duck, Chi-Chi, Clara Cluck, Clarice, Cuckoo-Loca, Dinah the Dachshund, Darkwing Duck, Della Duck, Dickie Duck, Dim-Witty Duck, Donna Duck, Doofus Drake, Duckworth, Eega Beeva, Ellsworth, Felicity Fieldmouse, Fenton Crackshell, Fethry Duck, Figaro, Gadget Hackwrench, Gilbert Goof, Gladstone Gander, Glittering Goldie, Gloria, Mrs. Goof, Grandma Goofy, Gosalyn Mallard, Gram-Gram Peg-Leg, Gubbles, Gus Goose, Gyro Gearloose, Humphrey the Bear, J. Audubon Woodlore, Jessica Rabbit, Jiminy Cricket, Mr. Jollyland, José Carioca, Launchpad McQuack, Little Helper, Lena, Mona, Newton Gearloose, Chief O'Hara, Oswald the Lucky Rabbit, Panchito Pistoles, Baby Panda, Peg Pete, Peter Pig, Mr. Pettibone, Pistol Pete, P.J., Pluto's Angel, Pluto's Kid Brother, Powerline, The Quin-Puplets, Roger Rabbit, Roxanne, Roxanne's Father, Salty the Seal, Spike the Bee, Stacey, Storkules, Susie Beagleman, Sylvia Marpole, Three Little Pigs, Three Little Wolves, Tiki, Toodles, Tootsie the Triceratops, Mrs. Turtle, Webby Vanderquack, Wilbur, Witch Hazel, Zeus
Community content is available under
CC-BY-SA
unless otherwise noted.