Arizona Goof
Background Info
movies
none
tv shows
Video games
Animators
Voice actor/actress
Personal info
Full name
Personality
adventurous
physical Appearance
very similar to Goofy, wears clothing similar to Indiana Jones
Species
dos
family
Goofy Goof, Max Goof
Pets
friends
Goofy Goof, Mickey Mouse, Donald Duck
Enemies
Quote
[Source]
Arizona Goof (or Indiana Pipps he was called originally in Italy), is the cousin of Goofy Goof.
Arizona is an archaeologist and explorer. He has a rare habit of not using beds, doors, or stairs. Instead, he sleeps in a tent, enters and exits houses through windows and climbs floors by a rope. Arizona is fond of a specific brand of liquorice candy (the brand is called Negritas in original Italian language version, Tuju in the Finnish language translation), which he never travels without and is addicted to the taste of, but which everyone else finds horrible. Arizona's car is an old jeep which he has named affectionately as Gippippa (Jeep + Pippo, Goofy's Italian name). Arizona has a rival archaeologist, Dr. Kranz, who is greedy and shameless and not above resorting to criminal behaviour. Arizona and Goofy look almost identical, which has been used as a plot device, when Goofy has masqueraded as Arizona to fool Dr. Kranz. For the readers' benefit, there is one small difference: Arizona has hairs dangling from his floppy ears, whereas Goofy's floppy ears are smooth.
Arizona Goof received his English name in his first American comics appearance (1991). In a couple of 2005-2006 appearances, the character was inexplicably renamed "Arizona Dipp". But more recent uses (Disney Digicomics, 2009–2010) have restored his traditional English name.
The character Arizona Goof was created by writer Bruno Sarda and artist Massimo De Vita in 1988,[disputed – discuss] as a spoof of the film character Indiana Jones.
Characters
Main: Daisy Duck, Donald Duck, Goofy, Mickey Mouse, Minnie Mouse Pluto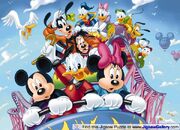 Secondary: April, May and June, Chip 'n' Dale, Clarabelle Cow, Grandma Duck, Horace Horsecollar, Huey, Dewey and Louie, Ludwig Von Drake, Max Goof, Millie and Melody, Morty and Ferdie, Scrooge McDuck
Other: Aracuan Bird, Arizona Goof, Baby Shelby, Mrs. Beakley, Beret Girl, Blackjack, Bobby Zimuruski, Bubba the Cave Duck, Chi-Chi, Clara Cluck, Clarice, Cuckoo-Loca, Dinah the Dachshund, Darkwing Duck, Dickie Duck, Dim-Witty Duck, Donna Duck, Doofus Drake, Duckworth, Eega Beeva, Ellsworth, Felicity Fieldmouse, Fenton Crackshell, Fethry Duck, Figaro, Gilbert Goof, Gladstone Gander, Glittering Goldie, Gloria, Mrs. Goof, Grandma Goofy, Gosalyn Mallard, Gram-Gram Peg-Leg, Gubbles, Gus Goose, Gyro Gearloose, Humphrey the Bear, J. Audubon Woodlore, Mr. Jollyland, José Carioca, Launchpad McQuack, Little Helper, Lena, Mona, Newton Gearloose, Chief O'Hara, Oswald the Lucky Rabbit, Panchito Pistoles, Baby Panda, Peg Pete, Peter Pig, Mr. Pettibone, Pistol Pete, P.J., Pluto's Angel, Pluto's Kid Brother, Powerline, The Quin-Puplets, Roxanne, Roxanne's Father, Salty the Seal, Spike the Bee, Stacey, Storkules, Susie Beagleman, Sylvia Marpole, Tiki, Toodles, Tootsie the Triceratops, Mrs. Turtle, Webby Vanderquack, Wilbur, Witch Hazel, Zeus
Community content is available under
CC-BY-SA
unless otherwise noted.